Mahut wins third Ricoh Open title in postponed final
13/06/16, 13:20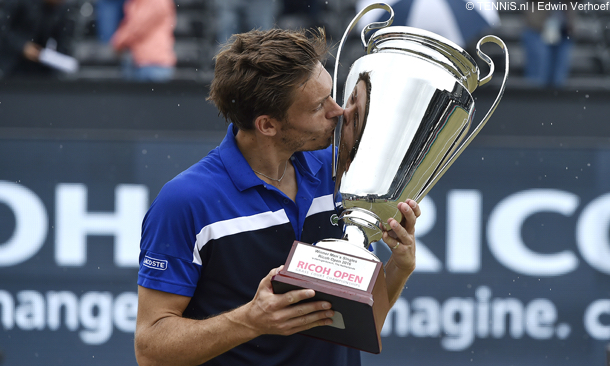 Nicolas Mahut (ATP-49) was again the best on the grass court of Rosmalen. The 34-year-old Frenchman beat Gilles Muller (ATP-44) 6-4, 6-4 in a remarkable final.
The match was interrupted on Sunday ​by rain after the eighth seed and wildcard Mahut had won the first set. Persistent bad weather, however, forced postponement of the final​'s completion to​ Monday for the first time in the long history of the tournament.
On both days Mahut was too strong for his opponent, who is one year younger. Both players played ​aggressively as usual but ​in the end it was the​ defending​ champion who played more carefully and held the trophy in front of a few dozen spectators.
The only break in the remaining match was registered in the third game of the second set, when Mahut capitalized on ​the break point. On Sunday Muller was not able to ​maintain his 3-1 advantage in the first set.
Left-handed seventh seed Muller has now played ​in four finals and has yet ​to win​ a title. Mahut has won three of his career's four titles in Rosmalen. The charismatic player won the Ricoh Open in 2013 and 2015.
Mahut does not have much time to enjoy his latest success as he will play against Andy Murray in​ the first round of the ATP 500 tournamen ​at Queen's (London) on Tuesday.